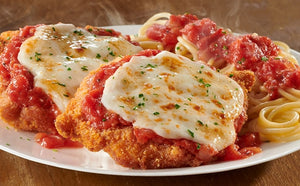 Chicken Parmesan with breaded chicken whole breasts, marinara sauce, parmigiano and melted mozzarella cheese is a classic italian food - plus, it's on the table in just 45 minutes! FEEDS 2 to 4 people.
2.2 pounds feeds 2 to 4 people
Campus One Stop has free Delivery throughout Kingston Ontario and the Queens University Campus including all Residences.